Partial payment - spreading the cost
The Prop Gallery is happy to offer interest free payment plans to enable customers to spread the cost of that sought after item over a number of instalments.
You can select the length of your desired payment plan (from 2 to 6 instalments) at the checkout. Please note that payment plans are limited to orders over £400 unless otherwise authorised by a member of staff, should you wish to spread the cost of a lesser item into a sensible time frame please contact us and we will try to accommodate your needs where possible.
How it works
For all payment plans a 20% deposit is required, this deposit is non-refundable and may not be transferred to another item.
It is then up to you to select the number of instalments you wish to spread the cost over, up to a maximum of 6 which are due on a monthly basis. The monthly instalment cost is then calculated by deducting the deposit amount and dividing the balance owed by the number of instalments you have selected. Any shipping costs are added to the final instalment so you do not have to worry about this when placing the initial order.
Our payment plan calculator can be found on all qualifying product pages, this can be used to work out the cost of instalments for a specific item before adding to it to your cart, just select the number of monthly instalments from the drop down menu and the deposit and payment amounts will be automatically generated.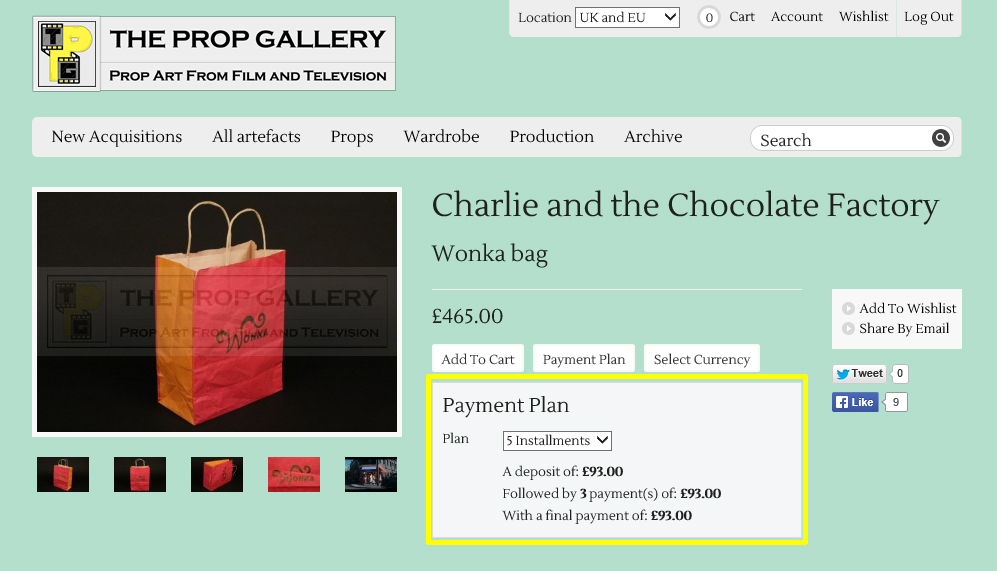 If you wish to proceed with the order simply click 'Add To Cart' and the relevant payment information will be transferred to the cart page and will show the total, amount to pay now and the amount to pay later, its not too late to change the number of months over which to pay, this can be done at the bottom left side of the cart page. The totals are displayed clearly showing the total, paying now and paying later amounts. When you are happy with your selection just click the Checkout Now button and proceed as normal.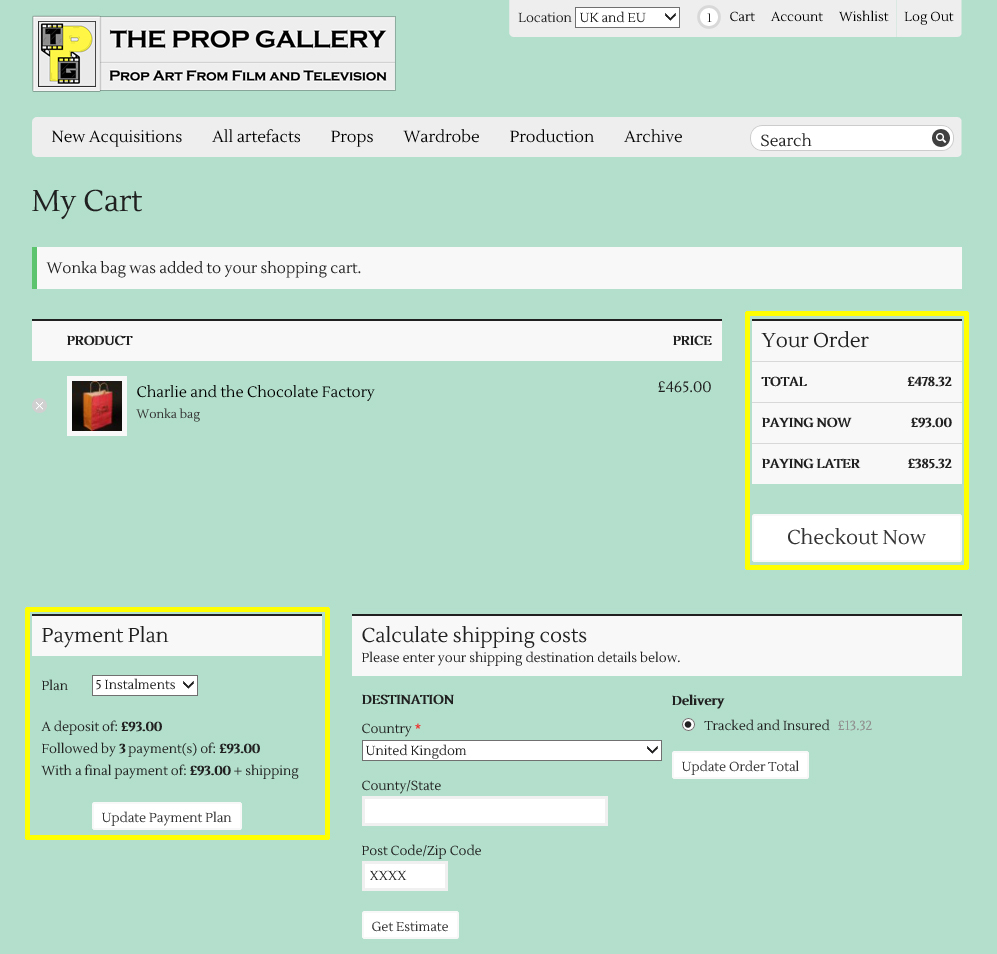 After the initial 20% deposit has been paid the remaining payments are due on a monthly basis, starting one calender month from the date of your order. You will receive an email reminder when the payment is due and you can access and make a payment anytime by going to the Payment Plans tab from your Account Overview page, simply select the plan and payment method to proceed. Our system does not take payment via direct debit on a monthly basis and is operated manually by the customer giving you full control when you wish to make a payment as many people choose to pay a little quicker than necessary as they are keen to have their new piece shipped out.
Please note if you are paying by credit/debit card select the Paypal option and on the next screen there is an option to pay by credit/debit card without opening a Paypal account. Currently all our instalment payments are handled through the Paypal system, It is not a requirement to already have, or to open, a Paypal account for this method. Should you have a Paypal account already the instalment payment can be made in just a few clicks as with any other Paypal purchase. Once the instalment has been paid it will be marked as such on your account page.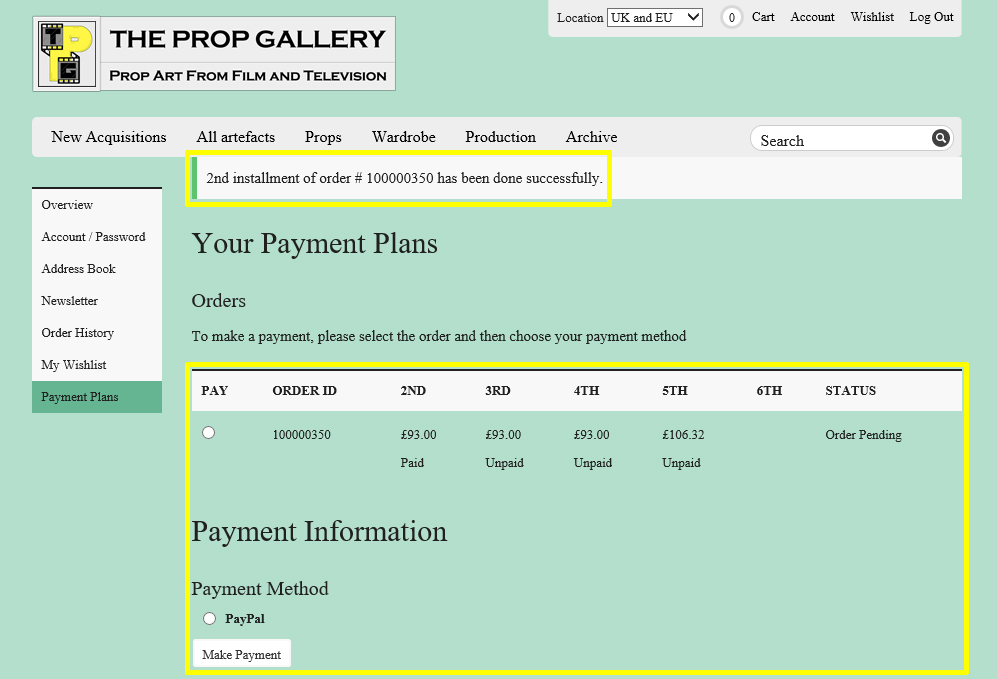 The Prop Gallery will look after your piece until the balance has been paid in full, then will your item be shipped to you, please also note that any shipping costs are payable with the final instalment.
You can order multiple items on a payment plan order however they must be paid for over the same number of months for each item, these amounts are calculated for you on the My Cart page automatically.
Cancelling the payment plan at any time will result in the issuing of a Prop Gallery credit note for the balance already paid minus the non-refundable 20% deposit. Please note any credit note issued is non-transferable to other persons and there are strictly no cash refunds.
You can contact us to settle the full balance on your account at any time resulting in your item being shipped immediately.
Should you have any questions regarding payment plans please contact us and we will be happy to assist.