Highlander (1986)
Connor MacLeod (Christopher Lambert) trench coat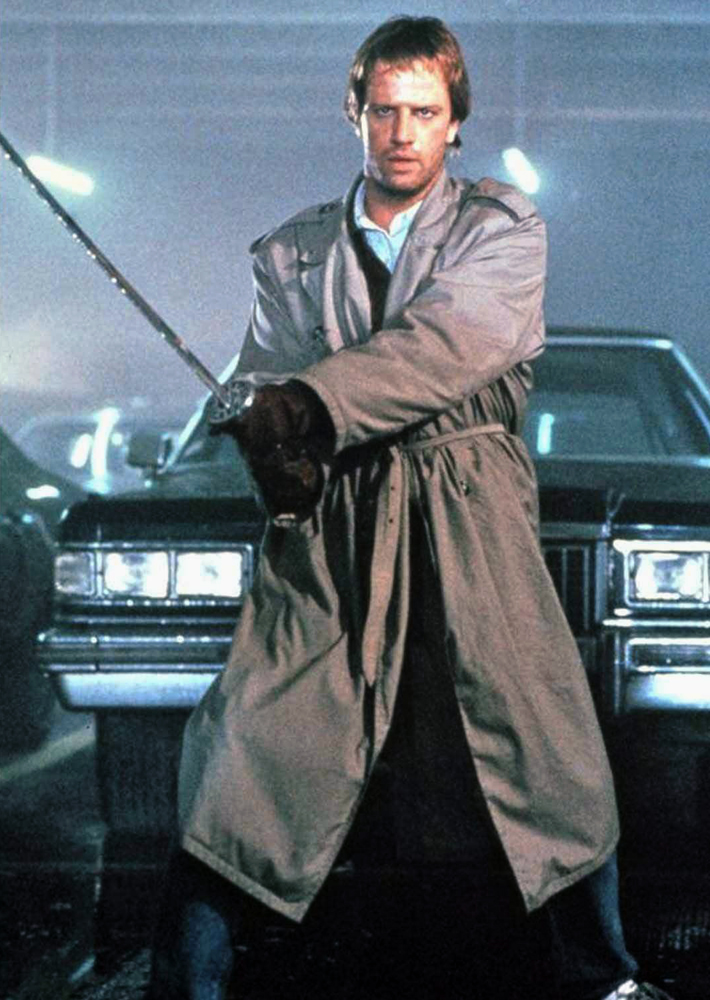 Highlander is a 1986 fantasy adventure picture directed of Russell Mulcahy from a story penned by Gregory Widen. The movie stars Christopher Lambert as Connor MacLeod, an immortal 16th century swordsman living in present day New York City and working as an antique dealer under the alias Russell Nash with his history told through a series of flashback sequences. The picture also stars Sean Connery as Ramirez who teaches MacLeod the history of the immortals who can be killed only by decapitation and Clancy Brown as the murderous and immortal Kurgan with whom he must do battle. The Gathering takes place in modern day New York City where the last of the immortals must fight to the death in order to claim 'The Prize'.
Highlander was poorly received upon its initial release and was a box office flop which failed to even recoup production costs, despite this the picture spawned four sequels including The Quickening (1991) and The Sorcerer (1994) which were again poorly received and a television series which did become international success. The original film has since gained a strong following with movie aficionados and is today regarded as a cult classic.
Wardrobe for the picture was visioned by noted costume designer James Acheson who would go on to win three Academy Awards with one of the signature costume pieces arguably being the trench coat under which MacLeod conceals his sword. It is a common misbelief that off the peg Burberry coats were used however the truth is that just three were bespoke made for Lambert and constructed from a very thin lightweight material achieving a flowing effect and proving ideal for filming action sequences where a heavier more cumbersome coat would have been impractical. This is one of the original trench coats worn on screen by Christopher Lambert as Connor MacLeod, it remains in generally excellent vintage condition whilst retaining some scars from the rigours of filming such as some minor staining and damage to the right arm. This coat was also used in the music video for the song Princes of the Universe written by Freddie Mercury and performed by the British rock band Queen, this video was filmed at Elstree Studios and features an appearance from Christopher Lambert where he reprises his role, this particular coat was worn by Queen bassist John Deacon.
This represents a fine example of principal character wardrobe from this cult 1980s classic.