Painting in pictures - The lost art of the matte shot
A matte painting is a special visual effects element used in the production of motion pictures enabling filmmakers to add environments to films which are not possible to achieve practically on location or in a studio. A fixture in filmmaking since the birth of cinema common uses for matte paintings include the extension of landscapes and structures which would be either impossible to build or prohibitively expensive and time consuming, they are also useful in the creation of fantasy pictures to portray situations which do not exist in reality giving the filmmaker free reign to bring his vision to the screen, these paintings are combined with live action footage to produce impressive shots which when perfectly executed can trick the audience in to believing what they seeing is real.
Over the years several methods have been employed to achieve these type of shots beginning with glass shots where a piece of glass would be placed between the camera and the live action set with the painted sections on the glass becoming part of the finished frame, later matte shots were created by exposing the paintings on to dupe negatives removing the need for artists to be present at the filming location or for any part of the shot to be obscured during filming, this meaning the artists work could be completed in studio and processed later.
The purpose of this article is not to provide a detailed history of matte paintings but to showcase an archive of extremely rare original photographs held by The Prop Gallery, a number of these photographs feature the work of influential British matte pioneer Walter Percy Day who headed up the matte painting department at Alexander Korda's Denham Studios and later at Shepperton Studios before his retirement circa 1954. Day was awarded the O.B.E for services to cinema in 1948 and was also responsible for training a number of other notable artists including Peter Ellenshaw who would go on to head the matte department at Walt Disney Pictures following his work on Treasure Island (1950), also featured are a number of pictures from the partnership of noted filmmakers Michael Powell and Emeric Pressburger including classics such as Black Narcissus (1947) and The Red Shoes (1948).
These original period photographs date from between 1940 and 1954 and originated from the Technicolor laboratory in West Drayton, London which was located in close proximity to the major British studios, it was here where these shots were processed. For each shot we typically have a before and after which serves to clearly show the painted additions which have taken place at the hands of the various artists involved, a large number of these photographs are unseen and unpublished, until now.
The Thief of Bagdad (1940)
This highly regarded Alexander Korda produced effects laden masterpiece features a number of matte shots executed by Walter Percy Day, Peter Ellenshaw and Wally Veevers at Denham Studios, also notable for its use of bluescreen the picture won the Academy Award for Best Special Effects.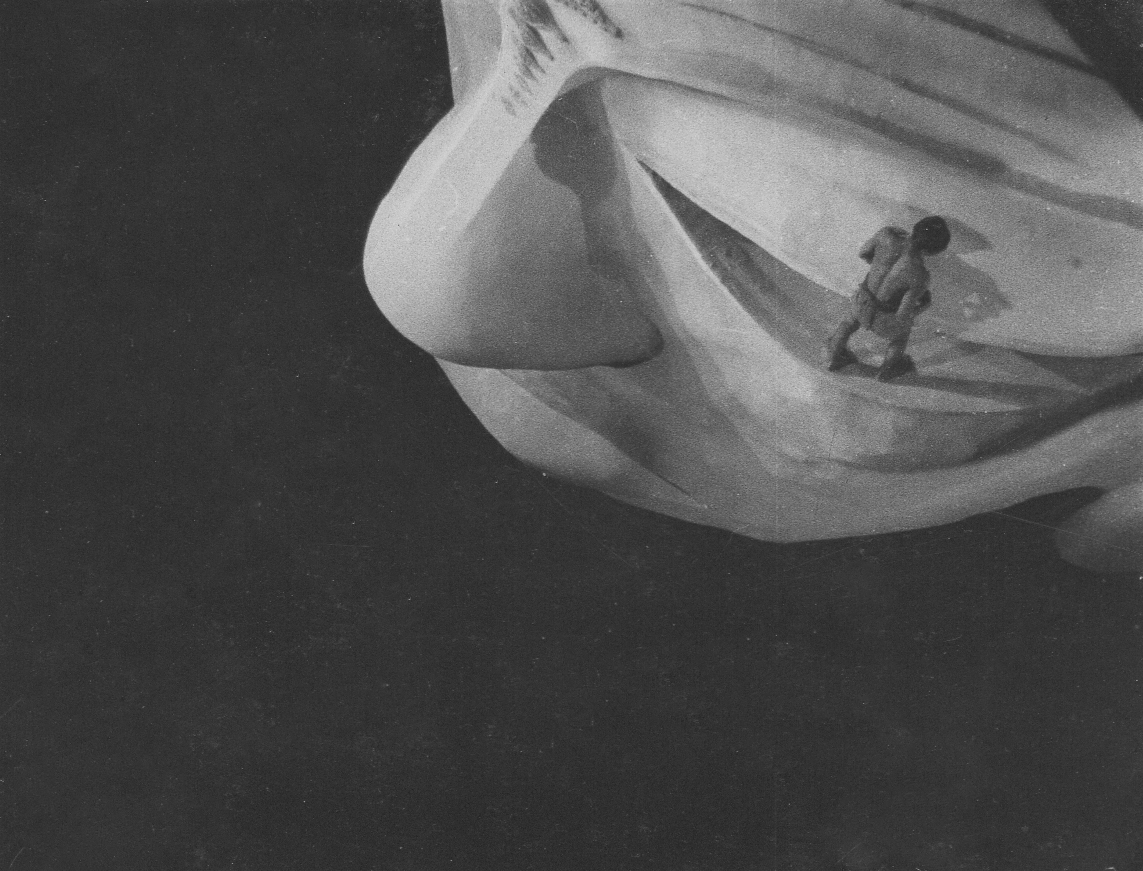 Several matte paintings were completed for this picture which were ultimately not seen on screen, these are three such shots including an alternative for the bridge matte with more detail including ships to the foreground.
The Life and Death of Colonel Blimp (1943)
Walter Percy Day paints wartime London at Denham Studios for this Michael Powell and Emeric Pressburger classic.
Below is a rare before and after of a shot which was completed but does not appear in the final cut of the movie, a fine example of using matte paintings as set extensions.